10 PK Resistance Bands Set or Single Loop Kit Belt Crossfit Glute Gym Workout PaCK 10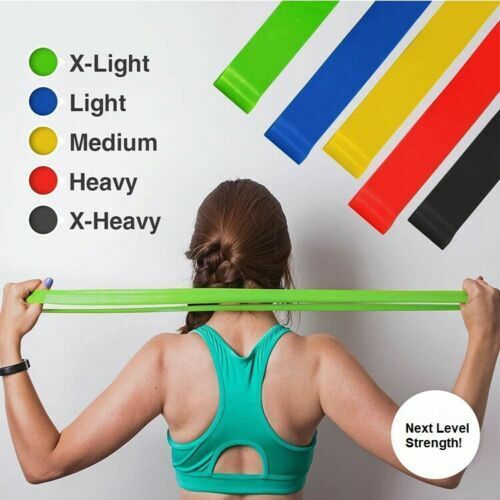 ✓ FREE: Carrier Bag plus Training Manual With Every Set!!!
✓ 100% GUARANTEE: Try out our high quality resistance bands to see why they get such great reviews. If you don't think they are worthy of 5 stars – simply contact us within 30 days and we can issue you with a no questions asked refund. What are you waiting for?
✓ PROFESSIONALS LOVE OUR BANDS – Our resistance bands have been rigorously and intensely tested by extremely experienced athletes and personal trainers to ensure we're offering the highest quality strength bands for your use. GadgetFindr are the ONLY brand that is tested so rigorously, and we make sure of that. High quality from top minds is what you get with GadgetFindr, and everyone wants that!
✓ REHAB FITNESS – Not only are strength bands great working out, they are great Physical Rehabilitation Bands as well! These physical therapy bands are ideal for leg and knee injuries, and work well for postnatal mothers. They support physical therapy after injury and are especially helpful for all workout newbies. Not to mention, rubber bands for exercise are fantastic for Pilates and Yoga.
✓ THE GadgetFindr DIFFERENCE ! – Our Resistance Bands have been designed for high endurance strength training and make a great addition to any home or gym routine you already perform, whether it be P90X, CrossFit, Insanity, or a workout of your own creation! Take fitness to new heights with our physio exercise bands!
✓ HIGH Quality – Our 12″ by 2″ Resistance Bands for Exercise come in 5 different resistance levels, making sure that you can meet the needs of your workouts no matter what level you're at. There are two lighter exercise bands (extra light and light), an intermediary exercise band (medium), and two heavier bands (heavy and extra heavy exercise bands).
These are the Secret Of Getting a Fit Body Without Large and Clunky Expensive Exercise Equipment Or A Costly Gym Membership
Workouts can be a hassle. If you're not running to the gym every day before or after work, you're trying to find the motivation to do an intense workout on your home gym.
Resistance bands are the best solution because they: 
– Are perfect for physical therapy exercises all the way to intense workouts
– Works flawlessly for arm, ankle, and leg workouts
– Are separated by resistance level to meet your needs
– Are extremely durable and long-lasting
– Are lightweight and portable
Strength/Colour? 
– 1 Light Green "Extra Light" Band
– 1 Blue "Light" Band
– 1 Yellow "Medium" Band
– 1 Red "Heavy" Band
– 1 Black "Extra-Heavy" Band
What is the Resistance of each Band? 
– Light Green Band – 2-4lbs
– Blue Band – 4-5lbs
– Yellow Band – 10-12lbs
– Red Band – 15-20lbs
– Black Band – 25-30lbs
These bands are the perfect solution for a home workout, so what are you waiting for?
Package Includes: Band set includes 5 bands, free workout manual plus free carrier bag.  
Payment – GadgetFindr only accept PayPal as our payment method as this is the safest and fastest method for both parties.